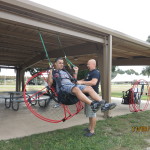 "There are no words to describe the feeling when you do your first flight. I will always be grateful to the flight junkies team.
Capt. Kurt is a true professional at what he does, he will not cut corners when it comes to training and guidance trough the whole process.
On top of doing a great job Mr. Fister and his wife will treat you like a family member, there kind and very respectful people.
If you are thinking in learning to fly do not hesitate and call Flight junkies you will not be disappointed."
–Ivan Romero Flight Junkie 879







by