FLIGHTJUNKIES Powered Paragliding Free Training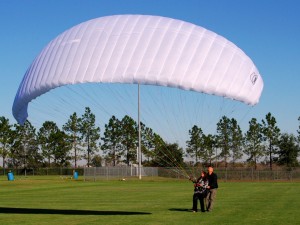 LOOK AROUND…YOU'LL SEE…….Others are charging
$1500

to

$2500

for training, and only providing 3-4 hours of training a day! Capt Kurt has always provided powered paragliding free training  – that's right,


UNLIMITED TRAINING, FREE OF CHARGE !


Best of all…If needed…. He will even come to you! You read that right!


FREE OF CHARGE! and IN ALL 50 STATES!


NO CATCH!…..NO FINE PRINT!….NO KIDDING!


NO-ONE in the entire USA does this!


Folks listen…And be careful with this……More than a piece of paper from some organization saying an instructor is "Certified"…… You want an instructor with good old-fashioned

EXPERIENCE

!!!
For almost two decades now, Capt. Kurt Fister has been the nations top PPG Dealer / Instructor, and has trained nearly 1000 students around the world.  He was one of the first few instructors in the USA teaching powered paragliding and has developed many of the launch techniques which have become the benchmark of the industry.
TRAINING FIELD LOCATIONS: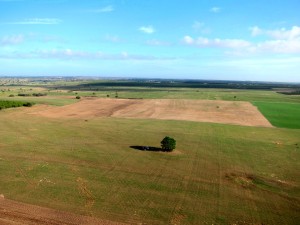 Florida Training Field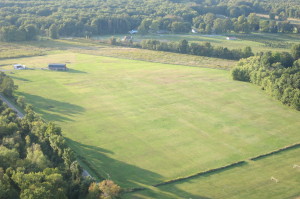 Ohio Training Field
He has thousands of hours of PPG experience as well as an extensive history of Sport Skydiving, General aviation, and Ultralites of all kinds. He believes that money should never be more important than safety….or an obstacle in getting the best training possible!
And so…
Since his first student..Capt. Kurt Fister has always provided training Free Of Charge! As you can imagine… This doesn't "sit well" with other dealers charging $1500 to $2500. However… FLIGHTJUNKIES will continue its tradition of Safety first, Providing Unlimited Powered Paragliding Free Training in all 50 states! The complete FLIGHTJUNKIES course will guide the student from terminology of the equipment all the way through to the student's first solo flight. PPG training course is usually completed in three days, weather and student skills permitted, However… training is FREE and UNLIMITED..so if it takes longer to be safe..No Problem..and NO CHARGE!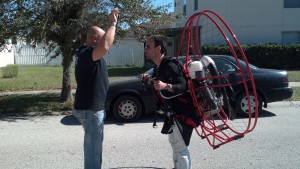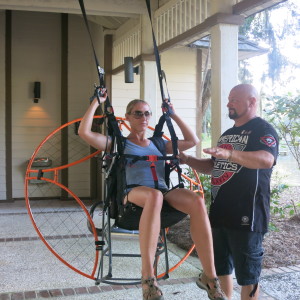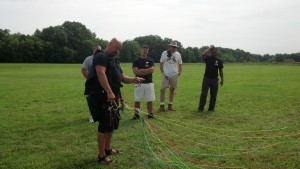 The first two days of the powered paragliding free training, the student will learn Terminology and Maintenance of the complete gear, Equipment Preflight, Basic meteorology (weather to fly), Aviation regulations, Field set up, Kiting and Inflation techniques(forward and reverse) with a backpack engine, Foot launch techniques on a simulator and Full ground school on Theory, Flight patterns, landing procedures and more!
Once a student has mastered these techniques and has a clear understanding of the flight procedures, a third day will serve as the student's dream day – your first flight solo!
After that we focus on more take offs and landings and just plain having FUN!
Since people progress at different rates in training, Captain Kurt will progress your training to you personally, based on your understanding and comprehension. This type of training insures the utmost in your safety and enjoyment of this incredible sport.
Hey Folks
Thanks for checking out our website!
I take great pride in our superior line of German Engineered FRESH BREEZE PPG's ,
I truly believe we have the finest product in the PPG world. Not to mention, Incredible customer service, and devotion to safety by providing powered paragliding Free Training.
I believe these are just a few of the reasons why FLIGHTJUNKIES has become the
Largest, most Trusted PPG school In The entire USA.
Thank you so much for your business and support!
We look forward to helping you experience the most incredible form of flight on the planet!
God Bless…and See You In The Air!
Capt. Kurt Fister
Hey Folks,
Here's yet another example of why you want to get the best possible equipment and the best possible training.  FlightJunkies has trained more students than any other dealers or schools world wide.  FlightJunkies has trained nearly 1000 students and has a Flawless PERFECT SAFETY RECORD.  Here's yet another good example below of why you want quality equipment and unlimited free training from the top instructor in the USA.
BlackHawk Paramotors can mean DEATH so don't cut corners when it comes to purchasing equipment.  And make sure there is no price tag on the training.  This is just one example of BlackHawk Paramotor incidents.
BlackHawk Paramotor crash:
Over and over, we keep seeing these types of incidents involving BlackHawk Paramotors and wings.
FlightJunkies DOES NOT use reverse engineered knock offs or un-certified gliders.  All of our gliders are tested and certified and given a thorough safety rating.  THEY ARE NOT MADE IN SWEAT SHOPS.  They are being made in actual designated WING MANUFACTURING FACILITIES.  We believe the practice of using reverse engineering and coping other gliders just to accommodate a lower price to a customer is a dangerous and even deadly practice.
Below is BlackHawk Paramotor equipment.  The air is stable beach air with no gusts.  The pilot is a BlackHawk Paramotor dealer and instructor and has had numerous crashes which have hospitalized him with serious injuries.  Keep in mind, this does not include many others who have been injured on BlackHawk Paramotor equipment.  Don't cut corners.  BlackHawk Paramotor flashes low price.  However, you get what you pay for.  Choose Fresh Breeze from FlightJunkies.com and UNLIMITED POWERED PARAGLIDING FREE TRAINING from top US instructor Capt. Kurt Fister.  The Best Equipment.!  The Best Training.!
"There should be no time limit or price tag on safety."







by