Hi Folks,
Capt. Kurt Fister here.
I can't begin to tell you how excited I am about our AMAZING new product !
The FLY-POD®
Trike
The FLY-POD has quickly become
THE BEST SELLING PPG TRIKE ON THE MARKET !
ORDER HERE
From Fully Assembled to Packed Up In The Trunk In Five Minutes…No Tools Needed!
As the Top PPG Instructor in the USA for over a decade, and with nearing 800 students trained nationwide…..I hear a lot of input and complaints on different products!
When it comes to PPG Trikes, I keep hearing the same things over and over from people.
Complaints like:
"I like my trike but…I spent almost double the money by the time I got a trailer to haul it. Then I got a trailer taking up more room!"
OR
"My trike or quad is so bulky feels like driving a truck"
"I wish it felt more like foot-launching"
"Wish it was more portable so I didn't need a trailer to lug it everywhere"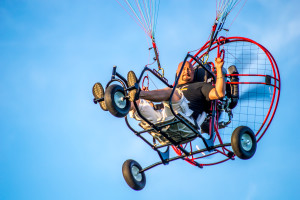 And of course… If you add up the cost of the
other brands out there…like
$3000 To $4000 for trike
$1500 To $2000 for training
$1500 To $3000 for trailer
$250 for the hitch to attach the trailer
$40 To $50 for license plates or stickers
DO THE MATH FOLKS AND YOU WILL KNOW WHY,
Expense …
is always a big complaint about the other Trikes on the market !
I LISTENED TO THIS LONG ENOUGH !
THE DAYS OF BIG BULKY QUADS AND TRIKES ARE OVER!!!
I DECIDED TO DESIGN A Trike that's SIMPLE ,
YET INCREDIBLY STRONG TO TAKE ABUSE…
As well as
PORTABLE AND AFFORDABLE !!!
A TRIKE WITH ALL THE BELLS AND WHISTLES THAT ARE NEEDED… And none of the

extra weight

and
bulky size of crap things you

don't need

!
A Trike With Pilot protection in mind!
After a year of design and testing…It's here!
THE FLY-POD® TRIKE
Here are Just a few features of
The FLY-POD Trike
that many other trikes
DO NOT HAVE !
1) The FLY-POD does not need tools to assemble or disassemble!
2) The FLY-POD Trike Does Not require a Trailer if so desired. It breaks down incredibly small and fits into most cars, minivans, small pickups ETC…
3) The FLY-POD assembles in UNDER 2 Minutes!
4) The FLY-POD will accept ANY PPG unit on the market large or small, ANY BRAND !
5) The FLY-POD has A-line assist which brings the wing up for the pilot by it's self !
NO MORE HOLDING LINES WHILE TRYING TO LAUNCH! No need to wonder when to let go.
Launching with A-line assist does it ALL for you..
Perfect launches…AUTOMATICALLY !
6) The FLY-POD has ARTICULATED front steering which actually "Self- Steers" to assist the pilot into the right direction. For effortless E-Z launches even for a beginner!
7) The FLY-POD uses DOUBLE THICK , ALL STEEL construction. And because of it's short size it is less likely to bend or break on hard landings…
EVEN WITH PILOTS UP TO 385 LBS !
8) The FLY-POD has a Wide wheel base to prevent Rollover !
9) Safety "POD" like protection around the pilot Same principle as dragsters.
10) The pilots sits in The Safety pod of the FLY-POD and that Pod is ONE SOLID PIECE !
IT IS NOT BOLTED TOGETHER WITH A TOP AND BOTTOM Like Others.
FURTHERMORE..
THE WING IS ALWAYS CONNECTED TO THE SAFETY POD!
ONLY FLY-POD HAS THIS DESIGN!
Nothing could be safer.
11) There are NO BARS OBSTRUCTING YOUR VIEW like those on some of the other brands!
(THIS IS DANGEROUS not to mention annoying, peeking around bars with your head cocked to the side, while trying to take in the great view! Look at their pictures What were they thinking?)…
Nor do you have to crawl in from the side and contort yourself like a circus side show freak just to get in and out of the seat!
With the FLY-POD, Even if your old or quite a bit out of shape… Getting into the FLY-POD is EEEEEE – ZZZZZZ
Stand in front of the Padded wide seat and sit down.
NO BARS IN THE WAY!
AND…
NO OBSTRUCTED VIEW !
SAFER !
And … More comfortable!
12) The FLY-POD, is Just a bit over 40 Lbs !
Which means you won't need any Friends, Ramps, winches or pulleys to help you load it !
Also…Your Take off distance will be a fraction of the others and…
Your climb rate will be FASTER
because you're LIGHTER!!!
And your Motor will last longer from not having to run full throttle all the time !!!
13) The FLY-POD has multiple hang points for any weight pilot from 85 lbs To 385 Lbs.
Clip your wing to the designated spot for your weight and you're done…IT'S THAT SIMPLE.
No More clamps to loosen, straps to adjust.
Just Clip and go!
14) The FLY-POD has a telescopic front end to fit your desired height and comfort level.
Will fit pilots from 4ft Tall To 7 ft Tall.
Folks ..the list goes on. These are just a few of the features I have designed into
The FLY-POD TRIKE
Now, In addition to all that,
I wanted a trike that would…
NOT FEEL LIKE YOU'RE FLYING A TRIKE !
Because of its light weight and size the
FLY-POD is ABSOLUTELY INCREDIBLE in flight!
NO "ROCKING CHAIR" EFFECT OF THE TRIKE while under the wing.
No SIDE TO SIDE YAW.
It moves with the Pilot as though he has foot launched.
Coming out of one maneuver to the next the FLY-POD stays right with the pilot. NO LAG TIME !
EVEN AEROBATICS are incredible….Tight 360 turns, Wing-Overs, Spirals…YOU NAME IT !
I cannot describe the difference in comparison to the others.
It's Time to
……Shed those unwanted bulky trikes and quads!
You'll feel the difference instantly!
THE FLY-POD® TRIKE
INCREDIBLY SAFE , STRONG,
AMAZINGLY PORTABLE !
AND
VERY
AFFORDABLE !
ORDER HERE
And remember..
UNLIMITED
FREE
TRAINING!
Others Charge $1500 to$2000 for training alone…
THAT'S OVER AND ABOVE EQUIPMENT COST.







by