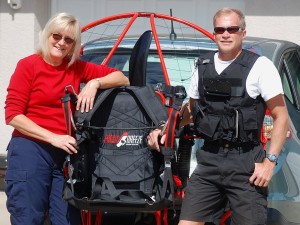 "Whether you want to fly or support a family member or friend, Capt. Kurt from Flight Junkies is your man.
My husband dreamed of flying since he was a boy.  The usual life circumstances always put the dream on the back burner and the expense of getting his private pilot license seemed impractical.
For about 10 years, he had been watching Paramotoring evolve and dreaming of making it happen.  He was coming up on his 55th birthday and he was talking about doing it for months.  So, it was time to get him in the air.  I called someone we found on the Internet, asked a lot of questions and scheduled my husband for a tandem flight.
After dealing with scheduling issues for months, we were finally hours away from training with an Instructor who, for various reasons, we starting feeling uncomfortable with.  That's when I met Capt. Kurt.  Noticing the paramotoring signage on his car in the parking lot of a local store, I approached him.  From the moment we met, I liked him.  His enthusiasm for the sport was unmatched by anyone so far and his willingness to meet my husband and show him the equipment he recommended was very exciting.
24 hours later, and with serious reservations about letting go of our money to someone we met in a parking lot, we had ordered a Fresh Breeze Airboss Paramotor with an Edel Power Atlas wing.  Capt. Kurt promised everything we needed to fly and free training.   REALLY?  We were skeptical but he is a man of his word.  The equipment shipped directly to our home, exactly as he promised.  We started training the very next day.  As we pulled the Airboss out of the box, Kurt was right there showing us how it worked and assembling the cage with us.  The Fresh Breeze started on the very first pull and has been consistent every flight since the first.
Kurt covered gear maintenance, pre-flight checks, safety procedures, Aviation regulations, what constitutes good flying weather, how to set up the wing, foot launch techniques and landing procedures.  He spent hours and hours with us kiting, talking, and having bites to eat until my husband was ready to launch.  To my relief, my husband's first launches were Instructor assisted by Kurt who was loud and clear with his commands.  For 25 minutes he flew grinning the whole time he was getting comfortable with his new skills.  When it was time for the first landing, Kurt calmly talked him down via portable radios and patiently told him when to flare for a great first landing.
This past week, my husband, video taped his testimonial for Capt. Kurt from 1500 feet in the air on his 32nd flight.  Check it out.
As a Flight Junkie groupie, I have not been up in the air yet but I will be soon.  For now, I love supporting my husband's dream come true by video taping the launches…snapping photos of the grin on his face as he flies over the beach and around our local water tower…chatting with all the fascinated bystanders after he's airborne and driving to witness his landing on our front lawn.
If you or someone you love is interested in flying…you must call Capt. Kurt at Flight Junkies.  You'll be glad you did!"
Happy Wife of Flight Junkie #762
Jack and Jill Kruse







by