(back to wing list)

ORDER HERE

With Rama FLEX by AirDesign, Stephan Stiegler and Martin Gostner are fulfilling their dreams by bringing a new, high quality brand into the market.
Designer Stephan Stiegler was the 1995 World Champion, later test pilot for Pro Design, then designer at UP and more recently Airwave.
AirDesign say their design philosophy is based around "performance designs at all levels."
AirDesign is focused on getting the most performance possible from their designs. Not many brands have designers who can fly at such a high level: Ozone, Gin, Advance and couple of others have it, but not many. We want our gliders to be fun.
AirDesign is based inTyrol (Austria).Design aims: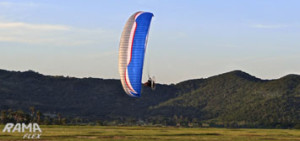 Performance, safety and quality in a wing for all pilot levels.
The AirDesign commitment to combine performance with comfort and manageability was key during the design of the RAMA Flex PPG wing. The RAMA Flex delivers the performance to satisfy progressing skill levels, whilst keeping the inherent stability required for beginner and intermediate pilots.
Pilot profile:
We wanted first to design a glider that would be remarkably easy to forward and reverse launch in nil wind conditions, perform in flight with exceptionally responsive toggle and wing tip steering, and land with the buoyancy and smoothness that you would expect from a performance paraglider wing.
RAMA Flex is designed for the active beginner pilot who has goals to continue to expand their flying experiences. The RAMA Flex bridges the separation between a true beginner wing and an intermediate performance wing.
As the name suggests the RAMA Flex uses a semi reflex platform.
The RAMA Flex inflates progressively without tendency to surge in stronger wind or in aggressive trike launches. In flight, the wing is responsive to brake input but without the hypersensitivity found in many performance gliders. The wing tip steering allows the pilot to make dynamic and efficient turns.
The RAMA Flex is designed with characteristic AirDesign attention to detail: Streamlined risers and the wing tip steering toggle, neatly tucked out of the way.
The neoprene covering on the adjustable brake handles adds a level of comfort and fit for pilots having to manage flying with gloves and throttle in hand. The dual pulley system allows for low and high attachment points.
With trim tabs released the glider transitions to a semi reflex profile which increases speed and wing pressurization as the wing's center of gravity shifts forward. This shift makes the glider inherently more stable. Minimized roll and pitch tendencies during flight allow the pilot to enjoy a calm, controlled flight even in rougher weather conditions.
The RAMA Flex is certified in the LTF/EN Category
Suggested Retail $ 3490.00
Demos are available, just ask.
MATERIAL
Sail: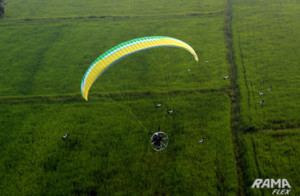 Top Sail
Porcher Skytex 40
Lines:
Middle line
A and B : Liros PPSL200
C and D : Liros PPSL120
Main line
A and B : Edelrid 7343-280
C and D : Edelrid 7343-190
SIZE

S

M

L

AREA FLAT (m²)

23.80

26.50

28.60

AREA PROJECTED (m²)

20.37

22.68

24.48

SPAN FLAT (m)

10.70

11.29

11.75

SPAN PROJECTED (m)

8.48

8.95

9.32

ASPECT RATIO FLAT

4.81

4.81

4.81

ASPECT RATIO PROJ.

3.53

3.53

3.55

CELLS

49

49

49

TOTAL LINE LENGTH

379

400

416

TOTAL LINES

124

124

124

LINE DIAMETERS

1.1/1.4/1.5/1.8

WEIGHT (kg)

5.4

5.9

6.3

V-TRIM/V-MAX (km/h)

37/57

37/57

37/57

LTF/EN CATEGORY
TAKE OFF WEIGHT (kg)

88-110*

108-135*

124-155*

* weight including motor








by