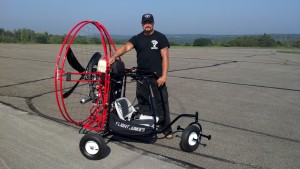 For well over a decade, Capt. Kurt has been America's top instructor training more students nation wide than anyone else.  Amazingly, since his first student, he has provided training completely
FREE OF CHARGE AND IN ALL 50 STATES.
He has made it a goal since day one to steer people away from the dangers, scams, and rip offs of powered paragliding and has kept people from making serious costly and dangerous mistakes.  Especially, when it comes to purchasing an equipment.
Capt. Kurt isn't afraid to point his finger and name names of the dishonest dealers!  He'll take as much time as you need to help you understand the vast difference in the equipment on today's market.  He has dedicated nearly 20 years in helping people live their dream of flight.
"Since his childhood growing up on a small farm in Ohio, Kurt Fister has been intrigued with flight. His attempts to fly at age 7 with umbrellas off rooftops was, shall we say, notably unsuccessful.
His next attempt at flight with fiberglass T.V. trays strapped to his arms proved equally inadequate, not to mention painful. And should we mention the parachute he made from bedsheets, and the huge tower of scaffolding?  Hmmm, that story takes a while to tell.
Needless to say, those pioneering days are long gone, but his love of the sky is stronger than ever. Now, at age 50, a seasoned pilot and veteran skydiver with thousands of jumps – Kurt enjoys flight in its most primitive state – Powered Paragliding (PPG).
He says that safety, portability, and the low and slow flying is the dream of a lifetime that finally came true. For years now, he has been training hundreds of new students to experience their flying dreams and discover the freedom and fun of powered paragliding.
With each new student you can hear it in his voice, you can see it in his eyes, and you can tell by the smile on his face that this is a man who truly loves Powered Paragliding.
Capt. Kurt Fister has trained almost 800 hundred students since this PPG phenomenon called FLIGHTJUNKIES began. From its beginning the success of FlightJunkies has been incredible.
Capt. Kurt Fister is the Nations top instructor with over 20,000 hours of PPG experience, and has trained students of all ages and all walks of life including members of law enforcement and the United States Military.  Capt. Kurt's students range from age 12 to the oldest in powered paragliding 87 year old Terry Phelps of Spokane, Wa.
Because of his love of the sport and his determination to keep PPG safe for anyone getting involved in this incredible sport, Capt. Kurt has always provided training completely FREE OF CHARGE IN ALL 50 STATES!
The Captain's FREE TRAINING is not very well accepted by other instructors and many of them are down right angry (as you can imagine!), especially since they charge $1500 to $2500 for training and certainly will not come to you.
However, Capt. Kurt has helped many folks who, for lack of finances or the lack of a local instructor, would have surely attempted to fly their PPG with no instruction whatsoever – and YES, we have seen the tragedy of this many times!
FlightJunkies continues to be the Powered Paragliding safety headquarters and the ONLY nationwide PPG Dealer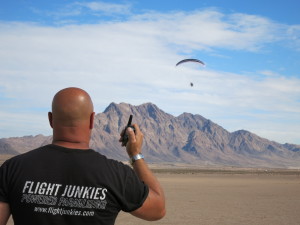 to bring the training right to you, wherever you live!
NOW YOU HAVE A PPG INSTRUCTOR WHO TRAINS FREE OF CHARGE IN YOUR HOMETOWN!
No one else in the entire USA does this!"
330-554-9194







by